Recipe Image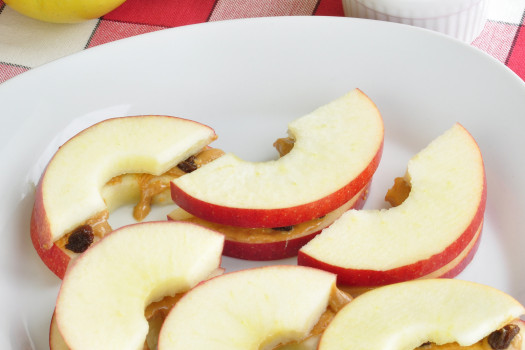 Preparation Time:
10 minutes
Vary your apple "sandwich" using different nut butters and dried fruits.  
Ingredients
1 medium apple
2 tablespoons peanut butter
1 tablespoon raisins
Directions
Wash hands with soap and water.
Cut apple in half from the stem down and lay each half cut-side down on a cutting board. Slice each half into 6 half-round slices and cut out the core.
Spread 1/2 teaspoon peanut butter on one side of each apple slice.
Put 4 to 6 raisins on top of the peanut butter on one apple slice. Top with another apple slice, peanut-butter side down. Squeeze gently.
Continue with remaining apple slices.
Notes
Sprinkle the peanut butter with grated carrot, chopped nuts, seeds or granola instead of, or along with, the raisins.
Try other nut or seed butters, such as almond, hazelnut or sunflower seed.
Use other dried fruit pieces, such as cherries or cranberries.
Learn more about:
Source:
Food Hero
Oregon State University Cooperative Extension Service