Recipe Image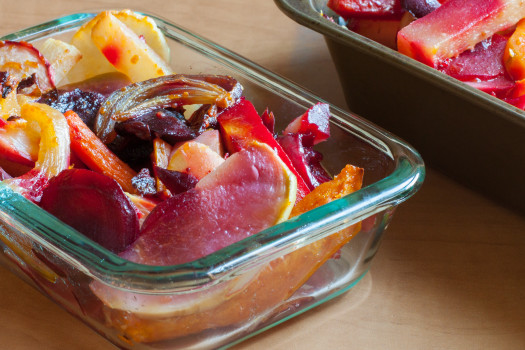 A variety of root vegetables like sweet potatoes, beets, and turnips make this colorful dish festive and nutritious.
Ingredients
4 root vegetables (choose a variety from potatoes, rutabagas, turnips, parsnips, beets, sweet potatoes, etc.)

(medium)

2 carrot

(chopped)

1 onion

(medium, chopped)

1/4 cup vegetable oil
3 tablespoons Parmesan cheese
Directions
Wash hands with soap and water.
Preheat oven to 350 °F.
Cut vegetables into large chunks.
Place in a medium-sized bowl and pour oil over top. Add seasonings or Parmesan and mix well.
Spread an even layer on a baking sheet or pan.
Bake for 1 hour or until tender. Check a few vegetables to see if they are tender.
Notes
Source:
Montana State University Extension Service