Recipe Image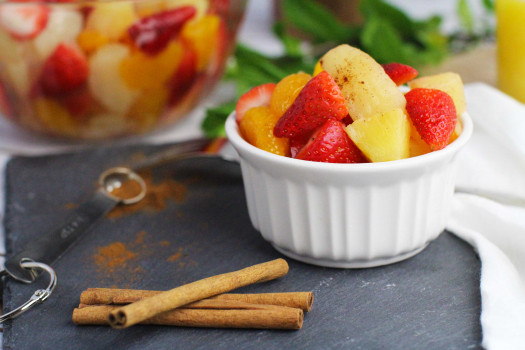 A touch of cinnamon and nutmeg make the flavors of this fruit medley pop.
Ingredients
2 cups strawberries

(fresh)

1 can mandarin orange sections

(16 ounce)

1 can pears

(16 ounce)

1 cup pineapple chunks, in its own juice

(16 ounce can)

1 cup juice, orange
1/4 teaspoon cinnamon

(ground)

1/4 teaspoon nutmeg

(ground)
Directions
1. Cut the strawberries in half.
2. Open the can of mandarin oranges. Drain off the syrup.
3. Open the can of pears. Drain off the juice. Slice the pears.
4. Open the can of pineapple, but don't drain off the juice.
5. Put the undrained pineapple, orange juice, cinnamon, and nutmeg in a mixing bowl. Stir together.
6. Carefully stir in the mandarin oranges, pears, and strawberries.
7. Refrigerate for 1 to 4 hours before serving.
Source:
Pennsylvania Nutrition Education Network