Recipe Image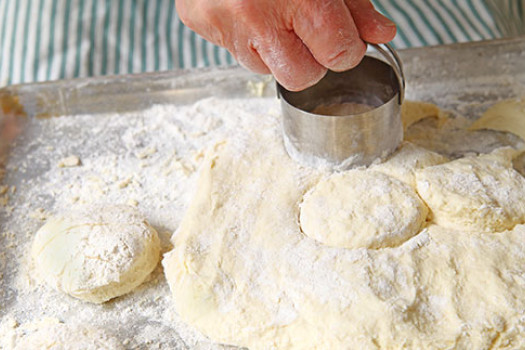 Light and flaky biscuits make excellent additions to holiday meals and family gatherings.
Ingredients
2 cups flour

(all purpose)

2 teaspoons baking powder
1/4 teaspoon baking soda
1/4 teaspoon salt
2 tablespoons sugar
2/3 cup buttermilk

(low-fat)

3 tablespoons vegetable oil

(+ 1 teaspoon vegetable oil)
Directions
Wash hands with soap and water.
Preheat oven to 450 °F.
In medium bowl, combine flour, baking powder, baking soda, salt, and sugar.
In small bowl, stir together buttermilk and oil. Pour over flour mixture and stir until well mixed.
On lightly floured surface, knead dough gently for 10-12 strokes. Roll or pat dough to ¾-inch thickness. Cut with a 2-inch round biscuit or cookie cutter, dipping cookie cutter in flour between cuts. Transfer biscuits to an ungreased baking sheet.
Bake for 12 minutes or until golden brown. Serve warm.
Source:
Heart Healthy Home Cooking: African American Style
US Department of Health and Human Services
National Heart, Lung, and Blood Institute