Sweet Potato and Apple Bake
Recipe Image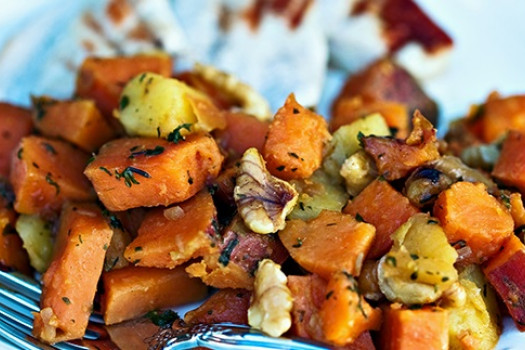 Enjoy the taste of fall with the combination of sweet potatoes and apples in this delicious side dish. Serve with roasted chicken or turkey, and a large green salad.
Ingredients
3 1/2 cups sweet potatoes, drained

(2 - 15 ounce cans; save 2 Tablespoons of the liquid)

2 cups apples

(peeled, cored and cut into bite-sized pieces )

6 teaspoons brown sugar

(2 Tablespoons, packed)

1/3 cup chopped nuts (pecans, walnuts or any other type)
2 tablespoons flour
2 tablespoons butter, melted

(unsalted)
Directions
1. Preheat oven to 350°F.
2. Put sweet potatoes in baking dish.
3. Add apples.
4. Pour 2 Tablespoons of the sweet potato liquid over the mixture.
5. Mix brown sugar, nuts, flour, and melted butter together in a small bowl.
6. Sprinkle over the top of the sweet potato/apple mix.
7. Bake for 20-30 minutes, until the top is golden brown and bubbly.
Notes
Granny Smith apples tend to work best in this recipe.
Learn more about:
Source:
Eating Smart, Being Active
Colorado State University and University of California at Davis