Tofu, Tomato and Spinach Soup
Recipe Image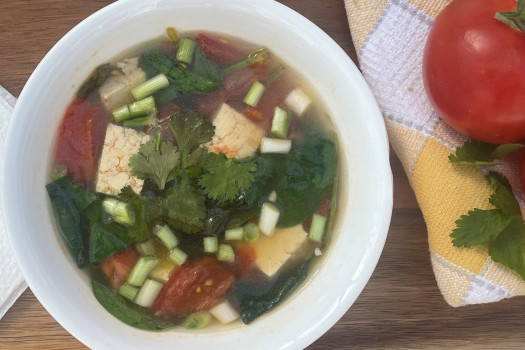 This vegetable and tofu soup is a delicious way to end your day. You can use fresh or frozen spinach and top with cilantro for a satisfying soup.
Ingredients
1 teaspoon vegetable oil
1/2 cup onion

(chopped)

1 garlic clove

(minced)

6 cups water

(or low-sodium chicken broth)

1 package tofu, silken, firm or extra firm

(14 ounce - patted dry and cut into ½ inch cubes)

2 tomatoes

(chopped)

3 green onions, chopped

(3 stalks, optional)

4 cups spinach leaves, fresh

(washed and dried, or 1- 10 ounce box frozen chopped spinach, thawed and squeezed dry)

1 tablespoon soy sauce, reduced sodium
1/4 teaspoon ground black pepper
1/4 cilantro leaves

(1/4 cup, optional)
Directions
Wash hands with soap and water.
Heat a 3 quart saucepan over medium heat; add oil and chopped onion. Cook onion until softened, but not brown. Stir in garlic and cook just until fragrant.
Add chicken broth. Bring to a boil. Add tomatoes and tofu. Lower heat and simmer until tomatoes are soft but not mushy (this takes just a couple of minutes).
Stir in green onions (optional), spinach, ground pepper and cilantro. Cook just until spinach is wilted.
Remove from heat. Taste for seasoning. Serve hot.
Notes
Source:
Montana State University Extension Service
Nutrition Education Program