Bell Pepper and Apple Coleslaw
Recipe Image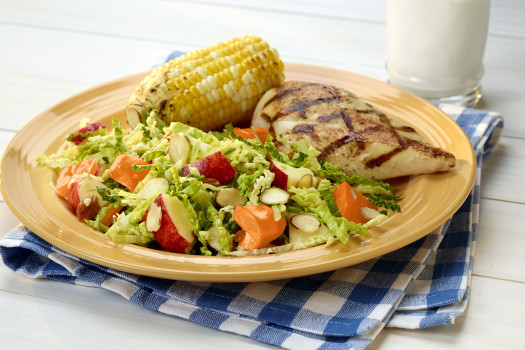 Preparation Time:
20 minutes
Apples and bell peppers liven up this coleslaw made with an easy vinegar mustard dressing. Add more color with red, orange or yellow bell peppers. Use your favorite sweet and crisp apple, such as Gala or Fuji.
Ingredients
For the Dressing:
1 tablespoon vegetable oil
1/4 cup apple juice
2 tablespoons cider vinegar
2 teaspoons Dijon mustard
1/4 teaspoon salt
1 dash black pepper
For the Salad:
1 small head green or Napa cabbage
1 orange or red bell pepper
1 Gala or Fuji apple
1/4 cup sliced almonds
Directions
1. Whisk together dressing ingredients.
2. Shred or thinly slice cabbage.
3. Cut apple and pepper into small chunks.
4. Place cabbage, apples, pepper and almonds in large bowl.
5. Drizzle with dressing and toss.
Source:
Produce for Better Health