Recipe Image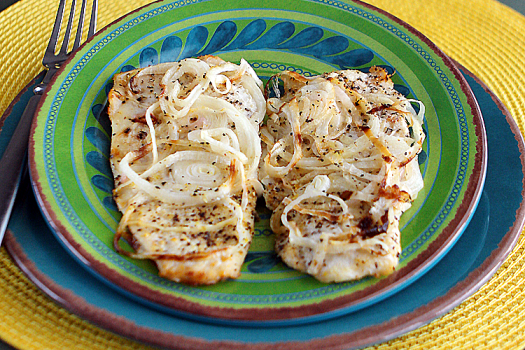 This dish can be served with vegetables and rice, pastas, or potatoes.
Ingredients
nonstick cooking spray
1 pound fish fillets

(whitefish, trout, or tilapia)

1 onion, sliced
1/4 teaspoon salt
1/4 teaspoon black pepper
2 teaspoons vegetable oil
1/4 teaspoon lemon pepper seasoning

(optional)
Directions
Preheat oven to 350 °F.
Place about a 12-inch piece of foil on the counter. Coat the foil with nonstick cooking spray.
Place the fillets in the middle of the foil. If the fillets have skin, place the skin side down.
Spread the onions, salt, pepper, and oil on top of the fillets. If using lemon pepper seasoning, add that too.
Fold the foil over the fish to wrap it. Place foil pouch on a baking sheet, and place it in the oven.
Bake the fish for 15 to 20 minutes until the fish is flaky when tested with a fork.
Divide into four portions and serve.
Notes
Tip for cooking fish: The recommended safe minimum internal temperature for fish is 145 °F, as measured with a food thermometer.
Learn more about:
Source:
A Harvest of Recipes with USDA Foods
Adapted from a recipe by Veronica "Babe" Newago, Red Cliff Ojibwe