Recipe Image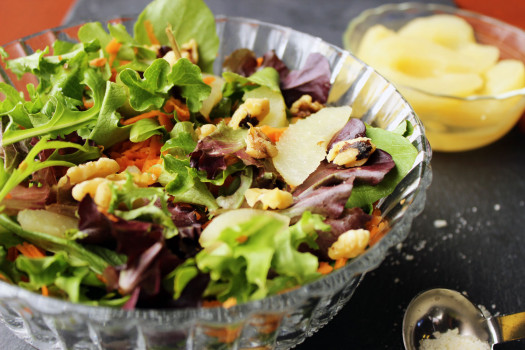 Sweet and savory, this Cobb Salad is sure to delight with the addition of canned pears, carrots, and Parmesan cheese.
Ingredients
For the Salad:
2 canned pear halves
6 cups mesclun mix baby greens
1/2 tablespoon Parmesan cheese
1 1/3 cups carrots, grated
3 tablespoons walnuts
For the Dressing:
1/4 cup pear juice
1/4 teaspoon cider vinegar
1/4 teaspoon honey
1/4 teaspoon dijon mustard
1 dash salt and black pepper
1/4 teaspoon extra virgin olive oil
Directions
For the dressing, mix pear juice, vinegar, honey, mustard, and salt and pepper and olive oil in a blender.
Put mixed greens in large mixing bowl, drizzle dressing over greens and mix together.
Add remaining chopped pear, walnuts, and grated carrots and toss lightly.
Portion out 1 cup of salad and top with 1/2 tablespoon grated Parmesan cheese.
Source:
USDA Center for Nutrition Policy and Promotion