Recipe Image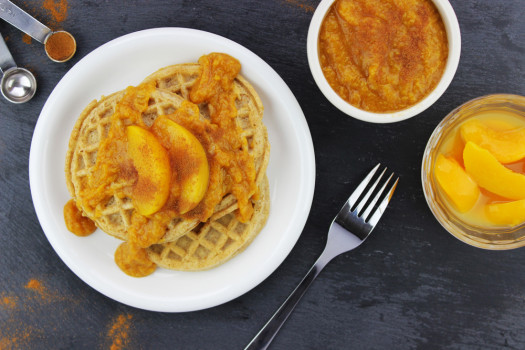 Preparation Time:
2 minutes
This simple peach sauce recipe is the perfect complement to your favorite dishes. Sweet peaches and aromatic cinnamon enhance savory dishes when topped on grilled chicken, or add extra sweetness and fruit to waffles, pancakes and yogurt.
Ingredients
2 15-oz cans of peaches, drained
1 teaspoon cinnamon
Directions
Drain peaches and pour into a medium saucepan with cinnamon.
Cook on low to medium heat for 20 minutes, stirring every few minutes.
Mash to desired consistency with either a potato masher or wooden spoon.
Notes
Use as a topping for plain, nonfat yogurt or whole-grain waffles, pancakes, as preserves on toast, or as sauce to top grilled chicken.
Note: For a thicker consistency, cook for 25-30 minutes to allow more time for the sauce to reduce.
Source:
USDA Center for Nutrition Policy and Promotion