Recipe Image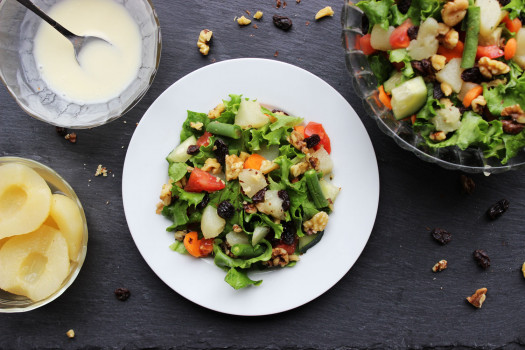 Get your servings of fruits and veggies in one dish! This salad is sweet and tangy with a yogurt and orange juice dressing. Serve it as a side salad to complement another entree, or have it alone for a healthy snack option!
Ingredients
For the Salad:
2 cups salad greens
1/4 cup sliced tomato
1/4 cup sliced carrots
1/4 cup sliced cucumbers
1/4 cup green beans
1 cup canned pears, drained and chopped
2 tablespoons walnuts
2 tablespoons raisins
For the Dressing:
1 1/2 teaspoons white vinegar
1/4 cup non-fat plain yogurt
1 tablespoon orange juice
Directions
Put salad greens, chopped vegetables, pears, nuts and raisins in a large salad bowl.
In a small bowl, whisk together vinegar, yogurt, and orange juice to prepare dressing.
Stir dressing into salad mix. Serve.
Source:
Center for Nutrition Policy and Promotion