Cucumber, Yogurt and Herb Dip
Recipe Image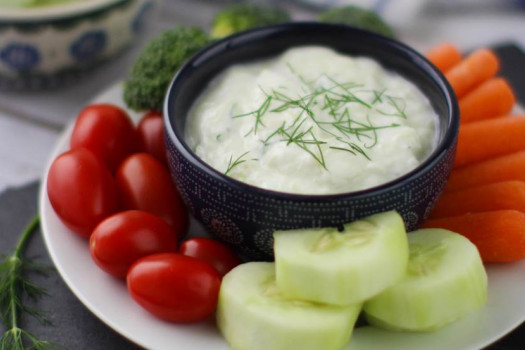 Lemon and dill combined with low-fat yogurt make this a flavorful and healthy dip. Serve it with your favorite vegetables.
Ingredients
2 cups yogurt

(plain, low-fat)

2 cucumbers

(medium, peeled, seeded, and grated)

1/2 cup sour cream

(non-fat)

1 tablespoon lemon juice
1 tablespoon dill

(fresh)

1 garlic clove

(chopped)

1 cup cherry tomatoes
1 cup broccoli florets
1 cup carrots

(baby)
Directions
Wash hands with soap and water.
Peel, seed, and grate one cucumber. Slice other cucumber and set aside.
Mix yogurt, grated cucumber, sour cream, lemon juice, dill, and garlic in a serving bowl. Chill for 1 hour.
Arrange tomatoes, cucumbers, broccoli, and carrots on a colorful platter. Serve with cucumber dip.
Notes
Source:
More Matters Recipes
US Department of Health and Human Services
Centers for Disease Control and Prevention (CDC)