Recipe Image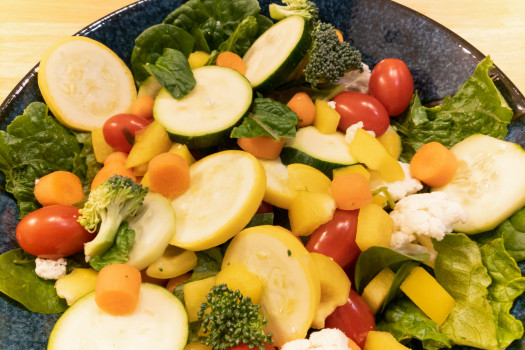 This nutrient-packed salad uses ten different vegetables, and each serving is equal to five cups of vegetables!
Ingredients
4 cups spinach

(fresh)

4 cups romaine lettuce
2 cups green pepper

(chopped, or use red, yellow, or orange)

2 cups cherry tomatoes
1 cup broccoli

(chopped)

1 cup cauliflower

(chopped)

1 cup yellow squash

(sliced)

1 cup cucumber

(sliced)

2 cups carrot

(chopped)

1 cup zucchini

(sliced)
Directions
Wash hands with soap and water.
Wash all of the vegetables and mix them together in a large mixing bowl.
Top this colorful meal with the nonfat or low-fat dressing of your choice.
Notes
The dressing is not included in the nutritional analysis.
Each serving = 5 cups of vegetables (Eight 5-A-Day servings).
Learn more about:
Source:
US Department of Health and Human Services Centers for Disease Control and Prevention (CDC)
5 A Day for Better Health Program