Strawberry Banana Parfait
Recipe Image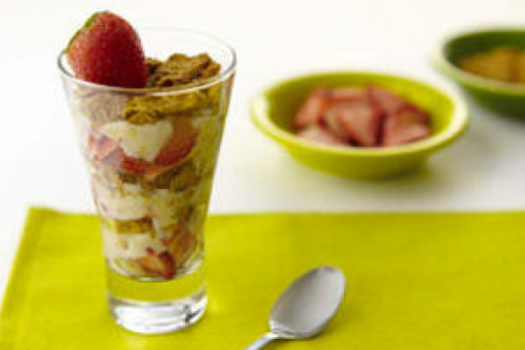 Preparation Time:
5 minutes
Enjoy the flavors of layered strawberries, crispy cereal flakes and creamy yogurt in this delicious parfait. Serve as a fruit-filled breakfast option or a better-for-you dessert!
Ingredients
1/2 medium ripe banana, mashed
1/8 teaspoon vanilla
1/3 cup plain non-fat yogurt
1/2 cup sliced fresh strawberries
1/2 cup bran and wheat flakes ready-to-eat cereal
Directions
Stir banana and vanilla into yogurt and combine well.
In a 10-12 ounce glass, alternately layer the yogurt-banana mixture, strawberries and cereal.
Serve immediately and enjoy.
Source:
MyPlate National Strategic Partners
The Grain Chain