Recipe Image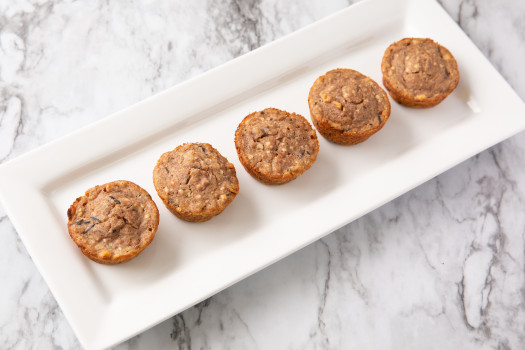 These flavorful and nutty wild rice muffins come together as part of a healthy breakfast or snack.
Ingredients
Cooking spray
1 1/2 cups bakery mix
1/4 cup sugar
2 teaspoons cinnamon
2 bananas, mashed
3/4 cup milk
1/4 cup applesauce
1 cup wild rice, cooked
walnuts, chopped

(optional)
Directions
Wash hands with soap water.
1. Preheat the oven to 400 °F. Spray a 12-cup muffin pan with cooking spray.
2. In a medium bowl, mix bakery mix, sugar, and cinnamon.
3. In a separate bowl, mix bananas, milk, and applesauce.
4. Add banana mixture to dry mixture and stir.
5. Fold in wild rice and nuts.
6. Spoon ¼ cup of the batter into each muffin cup. Bake for 20–25 minutes.
Notes
This recipe contains one or more ingredients considered to be traditional or indigenous to Native American communities in certain regions across North America. 
Source:
Recipe adapted from Chickasaw Nation Nutrition Services, Get Fresh Initiative.