Recipe Image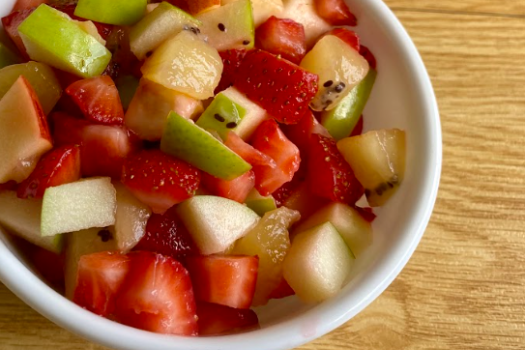 A salsa that is different from what you may usually have, this fruit recipe can be a great way to help older kids and teens learn safe knife skills in the kitchen.
Ingredients
1 cup strawberries

(diced)

1 banana

(diced)

1 kiwifruit

(peeled and diced)

1 apple

(cored and diced)

2 tablespoons lemon juice
1/4 cup sugar
1/4 teaspoon nutmeg
1/4 teaspoon cinnamon
Directions
Wash hands with soap and water.
Combine fruits in a medium mixing bowl and add lemon juice.
Stir in sugar, nutmeg, and cinnamon. Mix well.
Refrigerate until serving time.
Source:
Kids a Cookin'
Kansas Family Nutrition Program