Corn Salad with Fresh Basil and Lemon
Recipe Image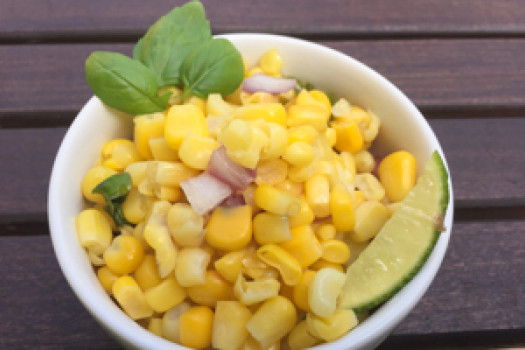 This is a great way to use fresh corn when it's in season. Make it the night before your next BBQ or family gathering.
Ingredients
6 ears of corn

(about 3 cups)

2 tablespoons chopped red onion
2 tablespoons lemon juice
1/8 teaspoon sugar

(pinch)

2 tablespoons olive oil
1 tablespoon chopped fresh basil

(or 1 tsp dried basil)
Directions
Wash hands with soap and water.
Cook corn in boiling water or in the microwave.
Cut corn from the cob. Add onion.
In a small bowl, whisk together lemon juice and sugar. Add oil and combine.
Stir the oil/lemon mixture, basil, and salt and pepper to taste (optional).
Refrigerate at least 30 minutes.
Source:
University of Maryland Cooperative Extension
Food Supplement Nutrition Education Program