Recipe Image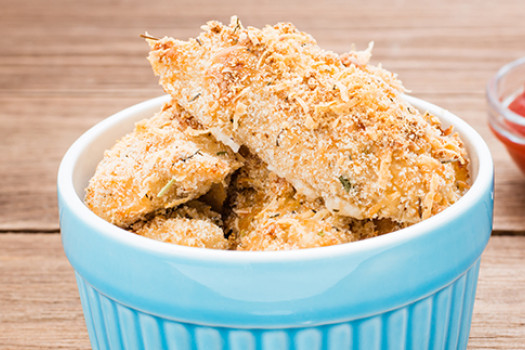 Preparation Time:
15 minutes
Make chicken nuggets at home using cereal crumbs, spices, and herbs. You can cook them in the microwave or the oven.
Ingredients
1 1/2 pounds chicken thighs, boneless, skinless
1 cup ready-to-eat cereal, cornflakes, crumb
1 teaspoon paprika
1/2 teaspoon Italian herb seasoning
1/4 teaspoon garlic powder
1/4 teaspoon onion powder
Directions
Wash hands with soap and water.
Remove skin and bone; cut thighs into bite-sized pieces.
Place cornflakes in plastic bag and crush by using a rolling pin.
Add remaining ingredients to crushed cornflakes. Close bag tightly and shake until blended.
Add a few chicken pieces at a time to crumb mixture. Shake to coat evenly.
Conventional Method:
Preheat oven to 400 °F. Lightly grease a cooking sheet.
Place chicken pieces on cooking sheet so they are not touching.
Bake until golden brown, about 12 to 14 minutes.
Microwave Method:
Lightly grease an 8x12 inch baking dish.
Place chicken pieces on baking dish so they are not touching. Cover with waxed paper and cook on high.
Rotate chicken every 2 to 3 minutes. Cook until tender, about 6 to 8 minutes.
Notes
To remove bone from chicken thigh:
Place chicken on cutting board. Remove skin from thighs.
Turn chicken thighs over.
Cut around bone and remove it.
Source:
Recipes and Tips for Healthy, Thrifty Meals
USDA Center for Nutrition Policy and Promotion