Recipe Image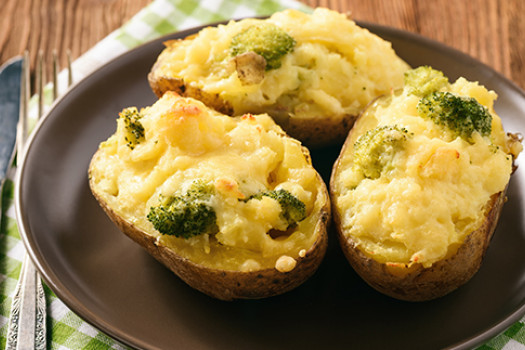 Use those broccoli stalks in this dish instead of throwing them away. This makes a delicious side, a hearty snack, or a light meal.
Ingredients
6 potatoes, medium
3 broccoli stalks
1/4 cup milk, 1%
1 cup cheddar cheese, low-fat shredded
salt and pepper

(to taste, optional)
Directions
Wash hands with soap and water.
Preheat oven to 350 °F.
Scrub potatoes. Prick the skin with a fork in several places.
Baked at 350 °F for 30 to 60 minutes, until soft, depending on size.
Peel broccoli stems. Steam broccoli just until tender and chop into small pieces.
Slices the potatoes in half. Scoop the insides into a bowl with the broccoli. Add milk, 3/4 cup cheese, salt and pepper. Mash together until the mixture is pale green with dark green flecks.
Put the potato mixture into the potato skins and sprinkle with remaining 1/4 cup of cheese. Microwave to heat through.
Notes
Potatoes can be microwaved instead of baked. For instructions, see the recipe for Microwave Baked Potato.

Learn more about:
Source:
University of Maryland Cooperative Extension