Recipe Image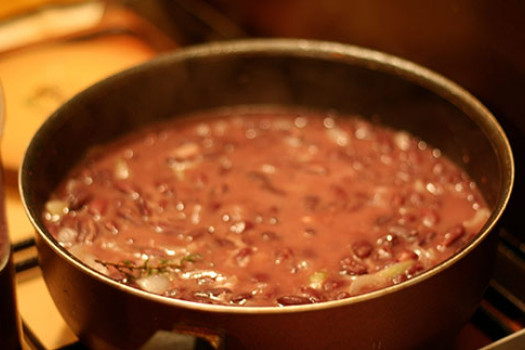 Spice up your week with these delicious New Orleans Red Beans. Season with hot sauce if desired. 
Ingredients
1 pound red beans

(dry)

8 cups water

(2 quarts)

1 1/2 cups onion

(chopped)

1 cup celery

(chopped)

4 bay leaves
1 cup green pepper

(chopped)

3 tablespoons garlic

(chopped)

3 tablespoons parsley

(chopped)

2 teaspoons thyme

(dried, crushed)

1 teaspoon salt
1 teaspoon ground black pepper
Directions
1. Pick through beans to remove bad beans; rinse thoroughly.
2. In a large pot combine beans, water, onion, celery, and bay leaves. Bring to a boil; reduce heat. Cover and cook over low heat for about 1-1/2 hours until beans are tender. Stir. Mash beans against side of pan.
3. Add green pepper, garlic, parsley, thyme, salt, and black pepper. Cook, uncovered, over low heat until creamy (about 30 minutes). Remove bay leaves.
4. Serve with hot cooked brown rice, if desired.
Source:
Stay Young at Heart: Cooking the Heart-Healthy Way
US Department of Health and Human Services
National Heart, Lung, and Blood Institute