Recipe Image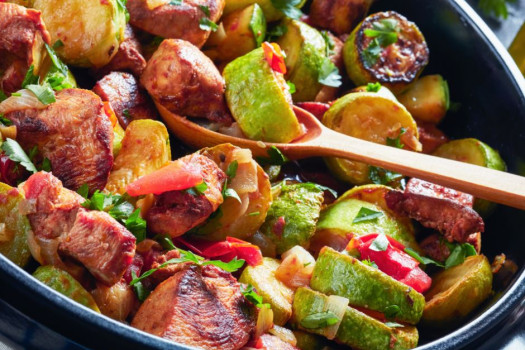 Chicken is added to this traditional vegetable dish of tomatoes, zucchini, and eggplant for a hearty and satisfying meal.
Ingredients
1 tablespoon vegetable oil
2 chicken breast

(medium, halved, skinned, fat removed, boned, and cut into 1-inch pieces)

2 zucchini

(7 inches long, unpeeled and sliced)

1 eggplant

(small, peeled and cut into 1-inch cubes)

1 onion

(medium, sliced)

1 bell pepper

(red or green, cut into pieces)

1/2 pound mushroom

(fresh, sliced)

1 can tomatoes, low-sodium

(14.5 oz, diced)

1 garlic clove

(minced)

1 tablespoon basil

(fresh, chopped)

1 tablespoon parsley

(fresh, minced)

black pepper

(to taste)
Directions
Wash hands with soap and water.
Heat oil in large non-stick skillet. Add chicken and sauté about 3 minutes, or until lightly browned.
Add zucchini, eggplant, onion, green pepper, and mushrooms. Cook about 15 minutes, stirring occasionally.
Add tomatoes, garlic, basil, parsley, and pepper; stir and continue cooking about 5 minutes, or until chicken is tender.
Source:
A Healthier You: Based on the Dietary Guidelines for Americans
US Department of Health and Human Services
Office of Disease Prevention and Health Promotion