Recipe Image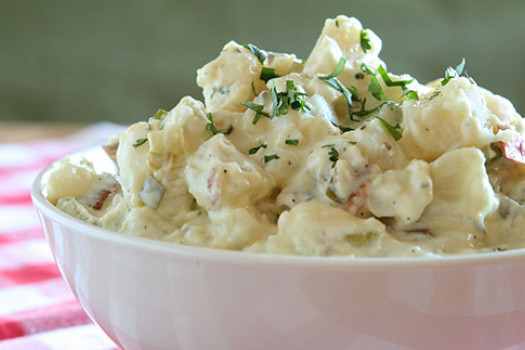 Dried herbs and spices make this zesty side dish a family favorite!
Ingredients
1/4 tablespoon salt
5 small potatoes

(1 pound)

radish

(1/2 sliced, optional)

1/2 teaspoon basil

(dried)

1/4 teaspoon thyme

(dried)

1/4 teaspoon onion powder
3 tablespoons yogurt, non-fat plain
1 tablespoon mayonnaise, reduced calorie
1 1/2 teaspoons prepared mustard
1/2 teaspoon garlic

(chopped)
Directions
Wash hands with soap and water.
Scrub potatoes and cut into cubes.
Place in medium saucepan and cover with water. Bring to a boil.
Cover, reduce heat, and simmer 12 minutes or until potatoes are done. Drain.
Mix dressing ingredients.
Combine hot potatoes, dressing, radishes, basil, thyme, and onion powder. Serve hot or cold.
Notes
Source:
University of Nebraska Recipe Collection
Staff from the University of Nebraska-Lincoln Cooperative Extension