Recipe Image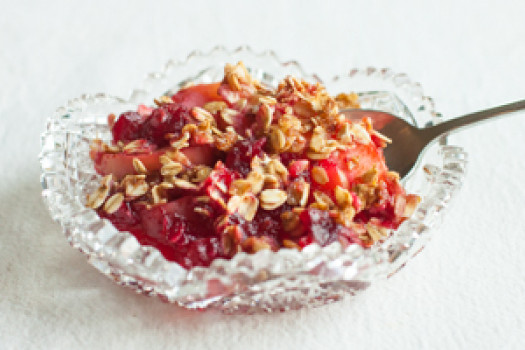 This red and golden whole grain dessert is a perfect balance of sweet apples and tart cranberries.
Ingredients
4 apple

(cored and thinly sliced)

1 can cranberry sauce

(14 ounce, whole)

2 tablespoons margarine

(soft, melted)

1 cup oatmeal

(uncooked)

1/3 cup brown sugar
1 teaspoon cinnamon
Directions
Wash hands with soap and water.
Preheat oven to 400 °F.
Wash apples, remove cores and slice thinly, keeping peel on.
In a bowl, combine the cranberries and apples. Pour into an 8x8 inch pan.
Combine melted margarine with oatmeal, brown sugar, and cinnamon until well blended. Sprinkle over apple/cranberry mixture.
Cover and bake for 15 minutes.
Uncover and bake 10 more minutes until the topping is crisp and brown.
Serve warm or cold.
Source:
Pumpkin Post and Banana Beat Newsletters
University of Massachusetts Extension
Nutrition Education Program