Recipe Image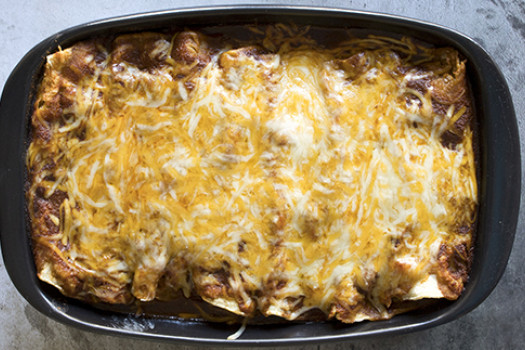 Black beans mixed with cumin, onion, and garlic make the base for these vegetable enchiladas. Bake them in the oven and top them with cheese for a satisfying meal.
Ingredients
1 tablespoon oil
1 onion

(medium, chopped)

3 garlic

(cloves, minced)

2 cups black beans

(cooked)

1 cup kernel corn

(1/2 of a 15.2 ounce can, drained and rinsed)

1 teaspoon cumin
2 cups prepared salsa

(divided)

8 corn tortillas
1/2 cup Monterey Jack cheese

(shredded)
Directions
1. In a large skillet heat oil over medium-high heat; sauté onion and
garlic 2-3 minutes.
2. Add beans, corn, cumin and 1/2 cup salsa. Cook 3-4 minutes, coarsely mashing beans with back of spoon.
3. Spoon 1/3 cup filling onto each tortilla; roll up.
4. Spoon 1/2 cup salsa into 11 x 7 x 2-inch baking dish. Arrange tortillas seam side down; top with remaining 1 cup sauce.
5. Cover and bake in 350º degree oven for 15 to 20 minutes.
6. Uncover; top with cheese. Bake 2 minutes longer or until cheese is melted.
Source:
The Bold and Beautiful Book of Bean Recipes
Washington State WIC Program