Recipe Image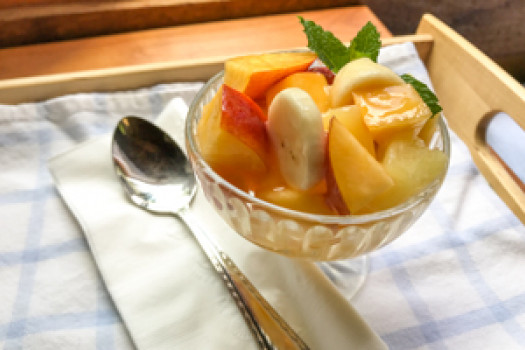 This compote has a thick and sweet sauce that is mixed with fruit for a delicious dessert.
Ingredients
1 cup pineapple chunks

(8 ounce can, juice packed)

1 1/2 cups orange juice
1 tablespoon cornstarch
1 banana

(medium, peeled and sliced)

1 pear

(sliced in cubes)

2 peaches

(sliced in cubes)
Directions
Wash hands with soap and water.
Drain the juice from the canned pineapple into a small saucepan.
Stir in orange juice and cornstarch. Blend until smooth.
Bring to a boil over medium heat, stirring constantly.
Let the juice mix cool to room temperature.
While the juice mix is cooling, peel and slice the banana. Wash the pear and peaches and cut them into cubes.
Pour the cooled juice mix into a large bowl. Add the pieces of pineapple, banana, pear, and peaches. Stir together.
Notes
You can serve this compote in serving dishes, or over frozen yogurt or waffles.
Learn more about:
Source:
Pennsylvania Nutrition Education Network