Recipe Image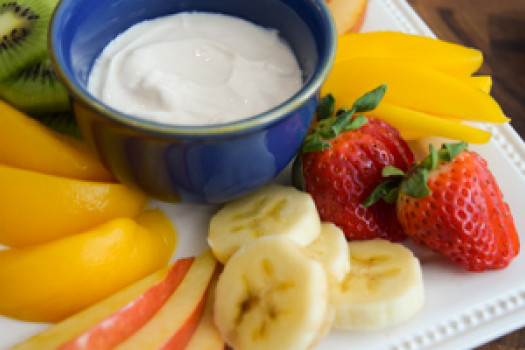 Lime juice and orange concentrate gives this yogurt dip a tangy and sweet flavor. Serve it with your favorite fruits.
Ingredients
1 cup yogurt, low-fat vanilla

(8 oz)

1 us fluid ounce orange juice, 100% juice, frozen concentrate

(thawed)

1 tablespoon lime juice
1 1/2 teaspoons brown sugar

(1/2 tablespoon)

2 apples

(red, cored and sliced)

1 pear

(cored and sliced)

1 peach

(pitted and sliced)
Directions
Wash hands with soap and water.
In a small bowl, combine yogurt, orange juice concentrate, lime juice, and brown sugar.
Mix well.
Place bowl containing dip on a large plate and surround with fruit.
Source:
Discover the Secret to Healthy Living
California Department of Health Services
California Children's 5-A-Day Power Play Campaign