Recipe Image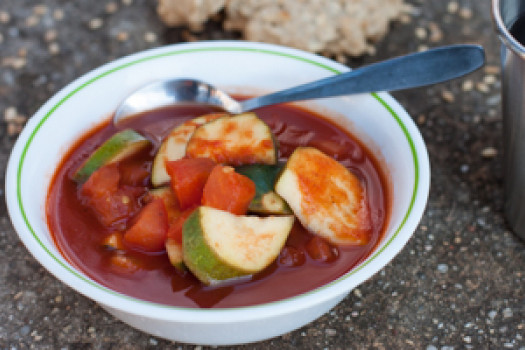 Break out the barley to make a comforting vegetable soup on a cold or rainy day.
Ingredients
46 us fluid ounces tomato juice, low-sodium
1 can beef broth, reduced sodium

(14.5 ounces)

1 cup barley

(regular)

1/4 cup sugar
1 tablespoon Worcestershire sauce
1 bay leaf
1/2 teaspoon thyme leaves

(crushed)

1/4 teaspoon salt
2 cups zucchini

(coarsely chopped)

1 tomato

(medium, chopped)

1/2 cup green pepper

(chopped)
Directions
Wash hands with soap and water.
In a Dutch oven or stock pot, combine tomato juice, beef broth, barley, sugar, and seasonings. Bring to boil; reduce heat.
Cover; simmer 1 hour.
Add vegetables. Return to boil; reduce heat.
Cover; simmer 15 to 20 minutes or until vegetables and barley are tender.
Source:
Wellness Ways Resource Book
University of Illinois Extension Service