Recipe Image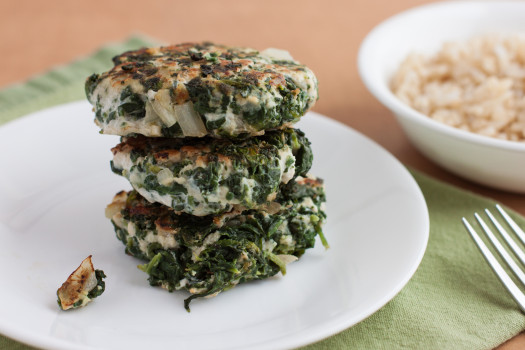 Enjoy these spinach and meat cakes over brown rice, and with a side of roasted sweet potatoes. 
Ingredients
1 pound ground beef, or turkey, 7% fat (93% lean)
16 ounces frozen spinach chopped

(may substitute a 2 bunches of fresh spinach)

1/2 onion

(small, finely chopped)

2 garlic cloves

(minced)

1/2 teaspoon salt
black pepper

(to taste)

3 cups brown rice
Directions
1. Preheat frying pan (no oil).
2. Combine all ingredients except brown rice in a large mixing bowl. Mix well.
3. Form mixture into 12 small balls. Place in frying pan and flatten into patties using a spatula.
4. Cook over medium heat until cooked on both sides.
5. Serve over brown rice.
Source:
California Health Department
Los Angeles County
Es Facil Campaign