Recipe Image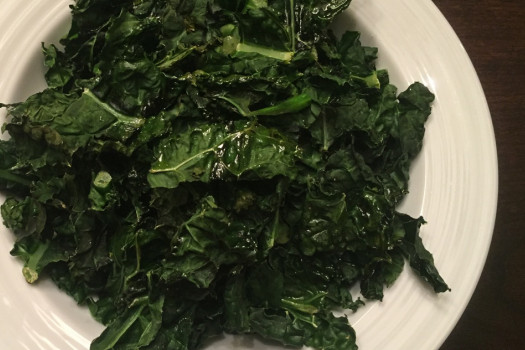 A crunchy chip that you can customize to your liking! Make sure kale is washed and thoroughly dried to ensure kale chips are crispy and not soggy.
Ingredients
1 cup kale

(or chard, spinach, or collards)

1 1/2 tablespoons olive oil
Directions
Wash hands with soap and water.
Line a cookie sheet with parchment paper (optional).
Wash and dry kale. With a knife or kitchen scissors, carefully remove the leaves from the thick stems. Tear into bite-sized pieces.
Place kale pieces on cookie sheet.
Drizzle olive oil over kale and then sprinkle with seasonings of choice.
Bake 10 to 15 minutes or until kale is crisp and edges are brown but not burned.
Notes
Seasoning suggestions: salt, pepper, onion powder, garlic powder, chili powder, cumin, turmeric, and Parmesan cheese.
Learn more about:
Source:
Del Norte (California) Department of Health and Human Services
and University of Kentucky Expanded Food and Nutrition Education Program (EFNEP)