Recipe Image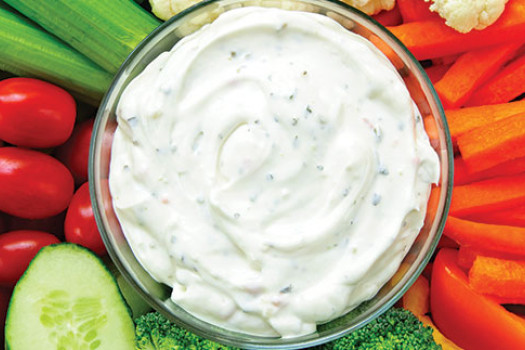 A blender transforms canned beans, herbs, and spices into this delectable ranch style dip!
Ingredients
1 can great northern beans

(15 ounce, rinsed and drained, low sodium)

1/4 cup water
1/2 cup yogurt, low-fat plain
1/2 teaspoon garlic powder
1/8 teaspoon cayenne pepper
1/4 teaspoon black pepper
1 tablespoon chives

(fresh, chopped)

1 tablespoon parsley

(fresh, chopped)

1/4 teaspoon tarragon

(dried)

1/4 teaspoon salt
1 tablespoon lemon juice
Directions
Wash hands with soap and water.
Blend the beans and garlic in a blender, adding enough water for the desired consistency.
Blend for 2 minutes to make it silky smooth.
Use a spatula to scrape the mixture into a medium bowl.
Stir in the yogurt, cayenne, chives, parsley, and tarragon, salt, and lemon juice. Serve in a bowl.
Source:
National Cancer Institute (NCI)
5 A Day for Better Health Program