Peanut Butter Cereal Bars
Recipe Image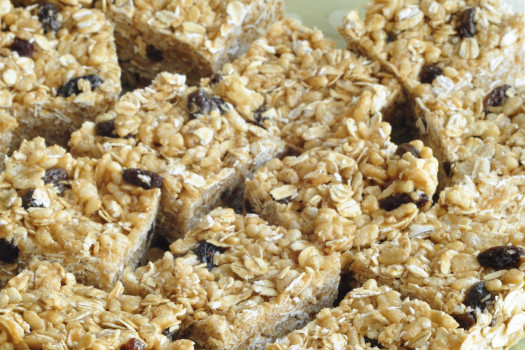 Preparation Time:
15 minutes
These bars make a great on the go snack to satisfy a sweet tooth. Trying adding pumpkin seeds, chia seeds, or chopped nuts to add a little extra crunch.
Ingredients
1/2 cup honey (see Notes)
1 cup peanut butter
2 cups rice cereal
2 cups quick oats
1 cup raisins or other dried fruit
Directions
Wash hands with soap and water.
In a saucepan, bring honey to a boil.
Reduce heat to low and stir in peanut butter.
Add cereal, oats and raisins; mix well. Remove from heat
Lightly grease an 8x8 inch baking pan. Press mixture into pan. When cool, cut into 16 bars.
Store in an airtight container for up to a week.
Notes
Try this recipe with 4 cups of unsweetened cereal flakes instead of the rice cereal and oats.
Honey is not recommended for children under 1 year old.
To avoid peanuts or peanut butter, try sunflower seeds or sunflower seed butter.
Source:
Food Hero
Oregon State University Cooperative Extension Service