Recipe Image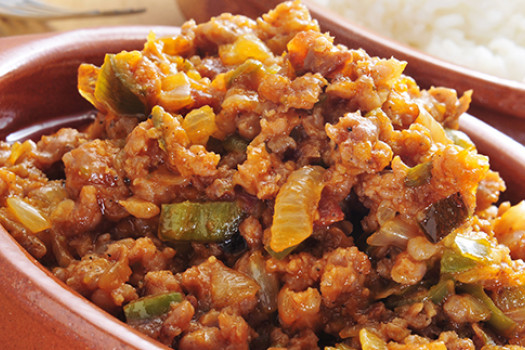 A fun flavorful dish that is full of veggies and lean protein and can be made in a flash.
Ingredients
1 pound turkey, ground, 85% lean
1 onion

(chopped)

5 carrot

(small, diced)

2 zucchini

(medium, or other squash)

2 potatoes

(medium, diced)

1 teaspoon salt
black pepper

(to taste)

1/2 teaspoon cumin
1 1/4 cups Mexican style tomato sauce

(10 1/2 ounce can)

1 teaspoon cornstarch
Directions
1. Brown ground turkey in a non-stick frying pan.
2. Add onions, carrots, squash, potatoes, salt, pepper, and cumin. Sauté for about 5 minutes.
3. Add tomato sauce and just enough water to cover. Bring to a boil, then lower heat and simmer, uncovered, until vegetables are tender.
4. Dissolve cornstarch in about 1 Tablespoon of cold water, add to mixture, bring back to a boil until gravy thickens. Serve.
Source:
California Health Department, Los Angeles County
Es Facil Campaign