Recipe Image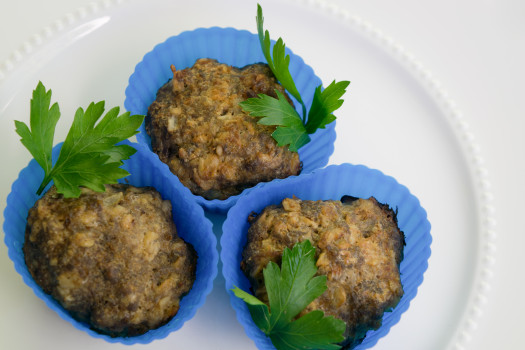 These savory meatloaf muffins are full of flavor and have a beautiful presentation. Enjoy one with a side of steamed spinach, kale, or a fresh green salad.
Ingredients
1 egg
1/2 cup non-fat milk
3/4 cup oats
1 pound lean ground beef
3 tablespoons onion

(chopped)

1/2 teaspoon salt
1/2 cup cheese (any variety)

(grated)
Directions
Wash hands with soap and water.
Preheat oven to 350 °F.
Combine all ingredients and mix well.
Spoon mixture and divide evenly into 12 greased muffin cups.
Bake for 1 hour, or until temperature in center of meatloaf is 160 °F.
Cool slightly before removing from muffin cups.
Notes
Combine meatloaf ingredients until well mixed, but don't over mix; too much mixing can make a meatloaf tough.
Safety Tip: Cook your meatloaves to 160 °F. Use a meat thermometer to test the temperature. You will know that your loaves will be completely and safely cooked without being dried out from overheating.
Learn more about:
Source:
Kids a Cookin'
Kansas Family Nutrition Program