Seasoned Roasted Vegetables
Recipe Image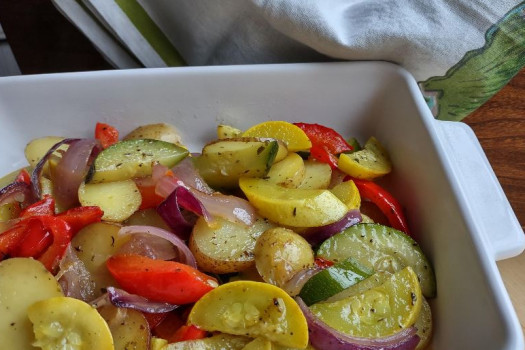 Italian salad dressing brings flavor to this veggie dish that cooks in just half and hour in the oven. Pairs well with fish, chicken, or tofu.
Ingredients
2 zucchini

(medium, washed and sliced)

2 yellow squash

(medium, washed and sliced)

4 potatoes

(medium, scrubbed and sliced)

1/2 onion

(peeled and sliced)

1/2 bell pepper

(green or red, washed, seeded and sliced)

1/4 cup Italian salad dressing

(reduced calorie, fat free)
Directions
Wash hands with soap and water.
Preheat oven to 350°F.
Stir vegetables and dressing in large bowl.
Spread vegetables in the center sheet of aluminum foil on top of baking sheet.
Bring together and seal to make packet.
Bake for 20-30 minutes.
Source:
Maryland SNAP-Ed Program.