Recipe Image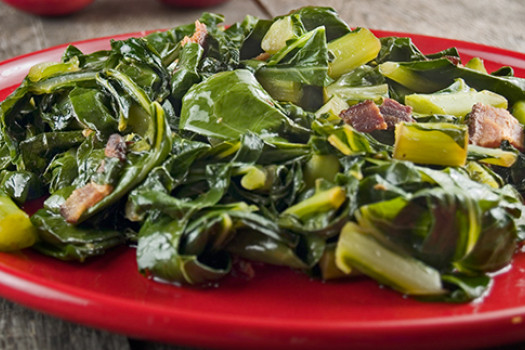 These greens are delicious. They're especially wonderful in the cooler months when greens are easily found in your garden or market. 
Ingredients
3 cups water
1/4 pound turkey breast, smoked, skinless
3 teaspoons hot pepper

(freshly chopped)

1/4 teaspoon cayenne pepper
1/4 teaspoon cloves

(ground)

2 cloves garlic

(crushed)

1/2 teaspoon thyme
1 scallion stalk

(chopped)

1 teaspoon ginger

(ground)

1/4 cup onion

(chopped)

14 cups mustard greens, or turnip, collard, kale, or mixture

(about 2 pounds)
Directions
Wash hands with soap and water.
Prepare greens by washing thoroughly and removing stems.
Tear or slice leaves into bite-size pieces.
Place all ingredients except greens into large saucepan and bring to a boil.
Add greens to turkey stock. Cook 20-30 minutes until tender.
Source:
Heart Healthy Home Cooking: African American Style
US Department of Health and Human Services
National Heart, Lung, and Blood Institute