Recipe Image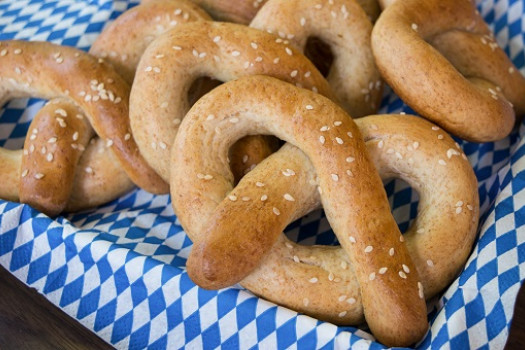 A great snack to make with kids. Perfect to dip in mustard for a savory pretzel, or a low-fat vanilla yogurt for a sweet treat.
Ingredients
1 tablespoon yeast
1 1/2 cups warm water

(100 to 110 °F)

2 cups all-purpose flour
1 1/2 cups whole wheat flour
1 egg
1 tablespoon sugar
sesame seeds

(2 tablespoons, optional)
Directions
Wash hands with soap and water.
Preheat oven to 425 °F. Lightly grease 2 baking sheets.
In large bowl, sprinkle yeast over warm water (if water is too hot, it will kill the yeast). Stir until well blended.
Combine white and wheat flour in a separate bowl.
Stir in sugar, 1/2 teaspoon salt and 2-1/2 to 3 cups flour to make a soft, sticky dough. Turn dough onto well-floured surface.
To knead, fold dough in half and push dough flat with heels of hands. Turn dough 1/4 turn. Repeat for 5 to 7 minutes. If needed, add more flour until dough is smooth and elastic. Dough should not stick to hands or counter.
Cut dough into 12 even pieces (about golf-ball size).
To Form Pretzels:
Roll one piece of dough into 15 inch long rope.
Cross left side over middle, creating loop.
Fold right side of rope up and over first loop to form pretzel shape.
To Bake:
Place pretzels 3 inches apart on baking sheet. Enlarge holes in pretzels by inserting finger into holes. This will prevent them from closing during baking.
In small bowl, mix egg and 1 tablespoon water together. Brush on pretzels. Sprinkle with sesame seeds.
Bake for 15 to 20 minutes or until golden brown. Best if eaten warm.
Source:
Montana State University Extension Service
Nutrition Education Program