Recipe Image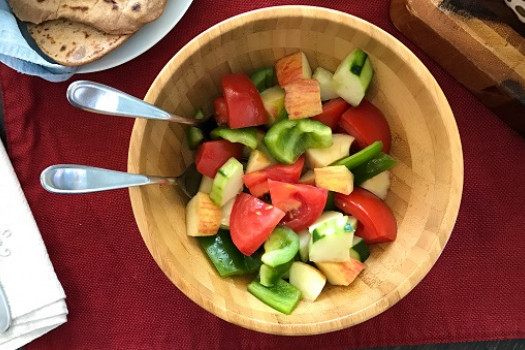 A delicious summer salad to serve when summer vegetables are at their peak. Great with grilled meat, fish, and tofu.
Ingredients
3 tablespoons olive oil
1 tablespoon lemon juice
3 apples
2 green peppers
3 tomatoes
2 cucumbers
salt and pepper

(optional)
Directions
Wash hands with soap and water.
In a large bowl, combine oil and lemon juice.
Dice all the fruits and vegetables and then add to the bowl.
Add salt and pepper to taste (optional).
Serve chilled.
Best served within 24 hours.
Notes
Note: Modification to NDSU recipe (PDF | 2.23 MB) includes making salt and pepper optional.
Learn more about:
Source:
North Dakota Food and Culture: A Taste of World Cuisine
North Dakota State University Extension Service