Recipe Image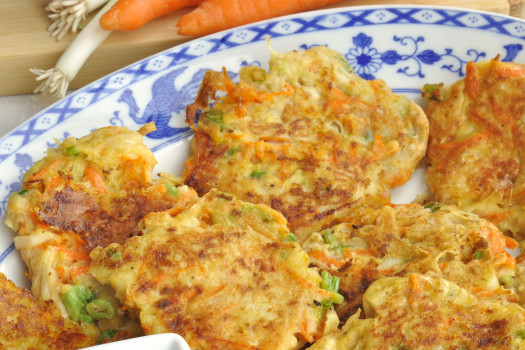 Preparation Time:
30 minutes
A great way to try turnips. Full of vegetables and packed with flavor, turnip pancakes will satisfy audiences of all ages.
Ingredients
Pancakes
1 cup all-purpose flour
1/2 teaspoon pepper
1 egg
2 cloves garlic, minced
1 tablespoon low-sodium soy sauce
3/4 cup water
2 cups grated turnip
1 cup grated carrot
1/2 cup thinly sliced green onion
2 tablespoons vegetable oil (for cooking)
Dipping Sauce
2 tablespoons low-sodium soy sauce
2 tablespoons rice vinegar
2 teaspoons packed brown sugar
2 tablespoons thinly sliced green onion
Directions
Wash hands with soap and water.
In a large bowl, mix flour, pepper, egg, garlic, soy sauce, and water in a bowl until smooth.
Stir in the turnip, carrot and green onion
Heat half of oil in a large skillet over medium heat (350 degrees F in an electric skillet). Pour about 1/4 cup of batter for each pancake into skillet. Flatten with a fork into a 3-inch circle.
Cook until edges look dry and bottom is golden, about 3 to 4 minutes. Turn once. Cook until bottom is golden and crispy. Repeat with remaining batter, adding remaining oil as needed. Pancakes will be moist in the center.
Combine dipping sauce ingredients in a small bowl. Serve with warm pancakes.
Notes
Source:
Food Hero
Oregon State University Cooperative Extension Service