Recipe Image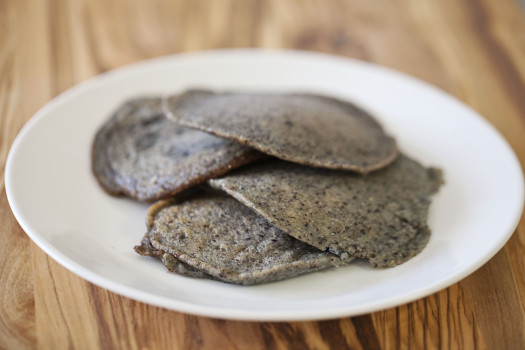 This blue cornmeal pancake is easy to make and a delicious way to start your day!
Ingredients
3/4 cup blue cornmeal
1/4 teaspoon salt
1 cup water, boiling
1/2 cup milk
2 tablespoons margarine, melted
1 egg (or 2 tablespoons egg mix + 1/4 cup water)
3/4 cup flour
2 teaspoons baking powder
Cooking spray
Light syrup or honey

(optional)
Directions
Wash hands with soap and water.
In a large bowl, mix the cornmeal and salt. Stir in the boiling water until the ingredients are wet. Cover and let stand for 3 minutes.
In a separate bowl, mix the milk, melted margarine, and egg or egg mix and water mixture. Add to the cornmeal mixture.
Add flour and baking powder to the bowl and mix until combined.
Heat a large skillet over medium heat and spray with cooking spray.
Spoon ¼ cup of the batter on the skillet. When bubbles appear, flip, and cook the other side until golden brown. Serve with syrup, honey, yogurt, or fresh fruit if desired.
Notes
This recipe contains one or more ingredients considered to be traditional or indigenous to Native American communities in certain regions across North America.
Source:
Recipe adapted from Chickasaw Nation Nutrition Services, Get Fresh Initiative