Beef and Cabbage for Dinner Tonight
Recipe Image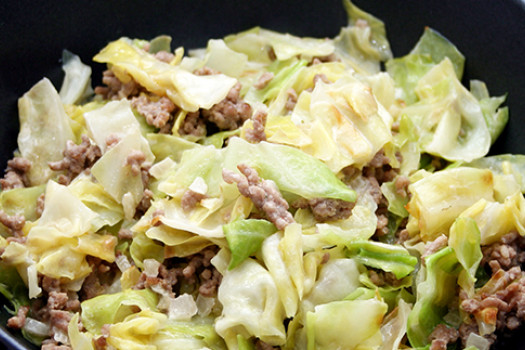 The cabbage in this simple skillet dinner loads the recipe with vitamin C and fiber.
Ingredients
1 green cabbage head

(washed and cut into bite-sized pieces)

1 onion, medium

(chopped)

1 pound ground beef

(90% lean)

2 sprays of non-stick cooking spray
1 teaspoon garlic powder
1/4 teaspoon black pepper
salt

(to taste, optional)

red pepper flakes

(to taste, optional)
Directions
Wash hands with soap and water.
Chop cabbage and onions, set aside.
In a large skillet, cook the ground beef on medium heat until browned. Drain the fat. Set beef aside.
Spray skillet with non-stick cooking spray. Cook onions on medium heat until soft.
Add cabbage to the onions and cook until cabbage starts to brown.
Stir the beef into the cabbage and onion mixture.
Season with garlic powder, salt (optional), and pepper. Add red pepper flakes (optional) to the cabbage if you like it spicy.
Source:
University of Maryland Cooperative Extension
Food Supplement Nutrition Education Program