Recipe Image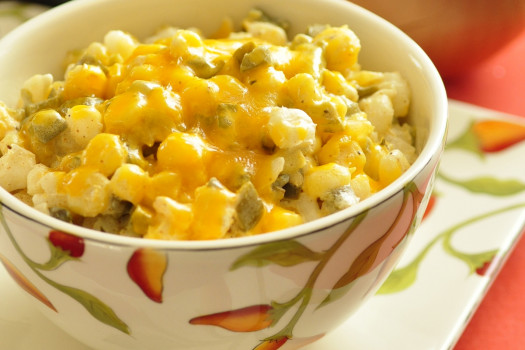 Preparation Time:
15 minutes
If you've never tried hominy before, you are in for a treat! This dish makes a great comfort food with a creamy texture and a spicy and flavorful flare.
Ingredients
1 teaspoon vegetable oil
1/2 cup chopped onion (about 1/2 medium)
31 ounces can white or yellow hominy, drained and rinsed

(2 - 15.5 ounce cans)

2 cans (4 oz each) chopped green chiles, drained
1 cup nonfat sour cream
1 teaspoon chili powder
1/8 teaspoon black pepper
3/4 cup shredded cheddar cheese
Directions
Wash hands with soap and water.
Heat oil in a large skillet over medium high heat (350 °F in an electric skillet). Add onion and cook until tender, about 2 to 3 minutes.
Stir in hominy, green chiles, sour cream, chili powder and pepper. Add half of the cheese and mix well.
Reduce heat to medium (300 °F in an electric skillet). Cover and cook until heated through, about 3 to 5 minutes.
Sprinkle remaining cheese on top. Cover and cook until cheese melts, about 5 minutes.
Notes
Try with different types of grated or crumbled cheese.
Learn more about:
Source:
Food Hero
Oregon State University Cooperative Extension Service