Recipe Image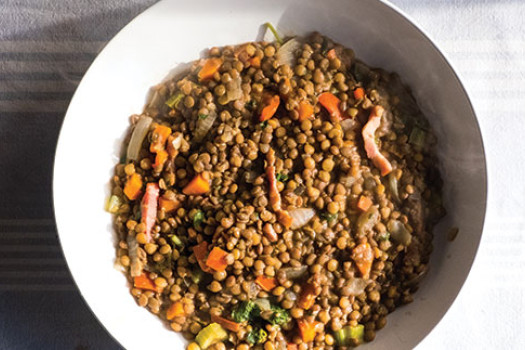 Lentils, potatoes, carrots, and peas are combined with seasonings and olive oil to make this savory side dish. This salad pairs well with your favorite baked or broiled meat, fish, or tofu entree.
Ingredients
1/2 cup lentils

(washed)

2 cups potatoes, sliced

(15 ounce can, low-sodium)

1 cup peas

(frozen)

2 carrot

(large, shredded)

1 tablespoon parsley
2 tablespoons red wine vinegar
3 teaspoons mustard
1/4 cup olive oil
Directions
Wash hands with soap and water.
Boil 1 cup water in a saucepan.
Add the lentils. Cook for 20 minutes over low heat until tender, then drain.
Cook the peas for 3 minutes in another saucepan. Then remove from heat.
Rinse and drain the peas.
Wash, peel, and shred the carrots.
Put the cooked lentils, sliced potatoes, peas, and shredded carrots in a bowl.
Put the parsley, vinegar, mustard, and olive oil in another bowl. Stir well.
Pour the dressing over the lentil vegetable salad.
Source:
Pennsylvania Nutrition Education Network