Recipe Image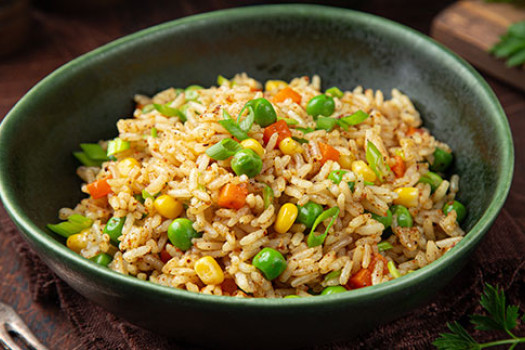 This rice dish blends the flavors of soy sauce, pepper, and vegetables for a quick meal. It's cooked in one pan so clean up is quick too.
Ingredients
2 cups white rice, cooked
2 tablespoons vegetable oil
1/2 cup celery

(chopped)

1/4 cup onion, chopped

(could also use green onion)

1 package frozen vegetables

(10 ounce)

1 tablespoon soy sauce, reduced sodium
dash pepper
Directions
Wash hands with soap and water.
Make 2 cups of cooked white rice. Use the package directions to make the rice.
Chop 1/2 cup of celery and 1/4 cup of onion.
Heat the oil in a skillet or large frying pan.
Add the celery and onion. Stir fry for 2 minutes.
Add the vegetables to the pan. Keep stirring the vegetables until they are tender-crisp.
Add the cooked rice.
Sprinkle with soy sauce and pepper.
Stir fry for 2 minutes until the rice is heated and the flavors are blended.
Source:
Pennsylvania Nutrition Education Network.