Recipe Image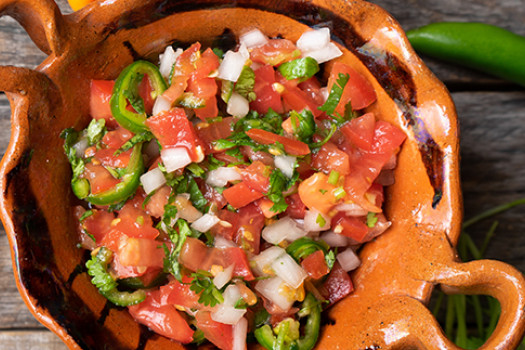 A great summer treat to make when our garden is bursting with tomatoes and jalapeño peppers. Enjoy over eggs, meat, fish, tofu, or with whole grain chips.
Ingredients
5 tomatoes

(medium)

2 jalapeños
2 cloves garlic
1/4 red onion

(medium)

3 tablespoons lime juice

(fresh)

1/2 teaspoon salt
1/4 teaspoon black pepper
1 tablespoon cilantro

(fresh, leaves)
Directions
1. Wash the vegetables. Cut the tomatoes into 1/2-inch pieces and put into a medium bowl. Because they can burn the skin, an adult should seed and mince the jalapenos and add them to the tomatoes.
2. Peel the garlic and mince. Peel the onion and cut into 1/4-inch pieces. Add the onion and garlic to the tomato mixture.
3. Stir in the lime juice, salt and pepper. Chop the cilantro and stir only until combined.
 
Source:
Cooking with Kids
New Mexico State University Cooperative Extension Service