Recipe Image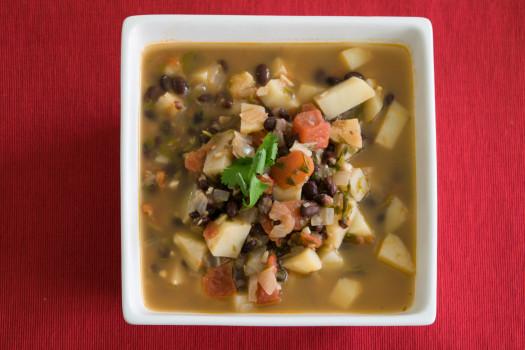 Easy to make and delicious to eat, this soup can be made in under an hour! Squeeze the other half of the lime over the soup before serving for extra flavor.
Ingredients
1 onion

(small, chopped)

4 cloves garlic

(minced)

1 can tomatoes, diced, low-sodium

(14.5 ounce can)

2 cans black beans, low-sodium

(15 ounce can, low sodium, drained and rinsed)

2 potatoes

(large, peeled and diced)

4 cups water
1/2 cup cilantro

(fresh, chopped)

1/2 lime

(squeezed)

1/8 teaspoon cumin powder

(a pinch)
Directions
Wash hands with soap and water.
In a large pot cook onion, garlic and tomatoes on medium-high heat for 3 minutes. Stir often.
Add beans, potatoes and water. Bring to a boil, then reduce to low-medium heat. Cover and continue to cook slowly for 20 minutes.
Add cilantro, cumin and lime. Stir and continue to simmer for 10 minutes.
Serve warm; sprinkle cilantro on top.
Source:
Simple Healthy Recipes
Oklahoma Nutrition Information and Education
ONIE Project