Recipe Image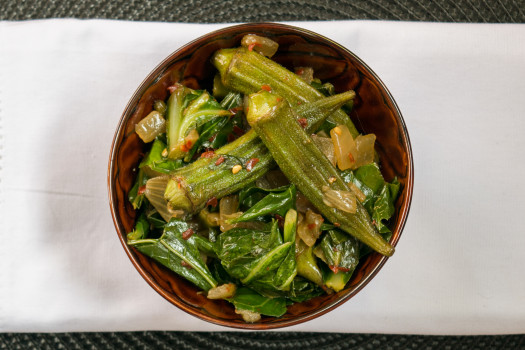 Spicy and flavorful, this is an amazing side dish that doubles easily. Double up and enjoy it with a crowd during the summer months when okra is in season.
Ingredients
1 onion

(small, finely chopped)

2 tablespoons corn oil
6 cups greens

(1 pound, shredded)

16 okra pods
4 chili peppers

(finely chopped and crushed)

1 lemon (juiced)
1/4 cup water
Directions
Wash hands with soap and water.
In a large heavy pan sauté onions in oil until golden brown.
Add remaining ingredients and about 1/4 cup of water. Simmer over low heat, covered, until greens are tender.
Squeeze on lemon juice before serving.
Notes
Source:
Ohio Commission on Minority Health