Roasted Tomatoes with Herbs
Recipe Image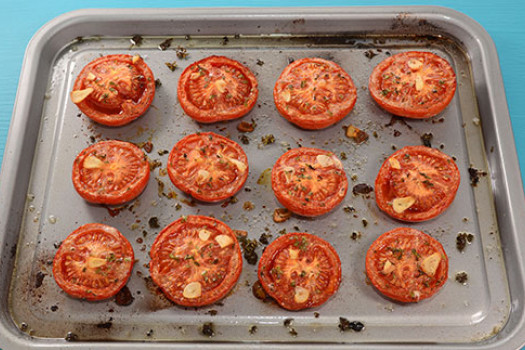 For a delicious way to enjoy heirloom tomatoes in peak season, here is a great recipe to celebrate your tomato harvest.
Ingredients
cooking oil spray, as needed

(non-stick)

6 tomatoes

(washed)

2 tablespoons olive oil

(or canola oil)

1/2 teaspoon pepper
1 tablespoon dried parsley
1 tablespoon garlic

(minced)

2 tablespoons Parmesan cheese
Directions
1. Preheat oven to 425 degrees.
2. Spray a large baking sheet with cooking oil spray.
3. Cut each tomato in half. Place tomatoes on the sheet, cut side up.
4. Drizzle tomatoes with ½ of the oil and season with pepper.
5. Cook for 30 minutes, or until tomatoes are beginning to brown on the bottom.
6. Mix the remaining oil, parsley, garlic, and cheese in a small bowl.
7. Remove tomatoes from the oven and sprinkle the herb mixture over the tomatoes.
8. Return to oven for another 10 minutes, or until spices begin to brown.
Source:
2009 Recipe Calendar
University of Maryland Extension
Food Supplement Nutrition Education Program