Vegetarian Spaghetti Sauce
Recipe Image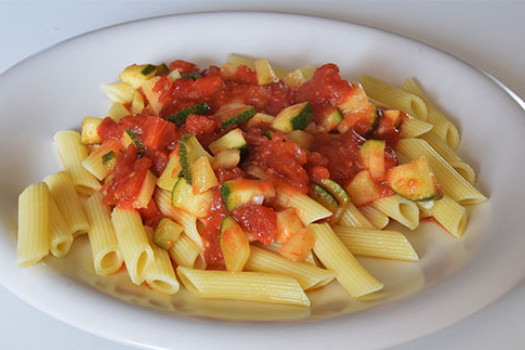 Combine oregano and basil with fresh and canned veggies to make your own spaghetti sauce, perfect for any pasta dish.
Ingredients
2 tablespoons olive oil
2 onion

(medium, chopped)

3 cloves garlic clove

(chopped)

1 1/4 cups zucchini

(sliced)

1 tablespoon oregano

(dried)

1 tablespoon basil

(dried)

1 can tomato sauce

(8 oz)

1 can tomato paste

(no salt added, 6 oz)

2 tomatoes

(medium, chopped)

1 cup water
Directions
Wash hands with soap and water.
In a medium skillet, heat oil. cook onions, garlic and zucchini in oil for 5 minutes on medium heat.
Add remaining ingredients and simmer covered for 45 minutes. Serve over pasta.
Source:
DASH Eating Plan: Lower Your Blood Pressure
US Department of Health and Human Services
National Heart, Lung, and Blood Institute